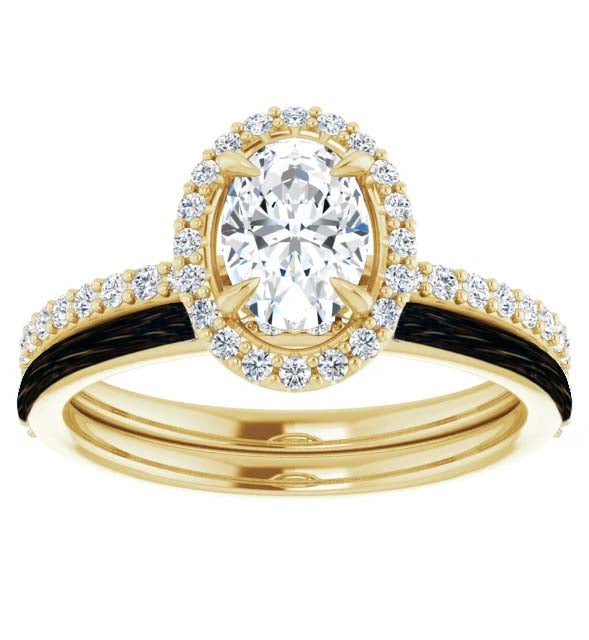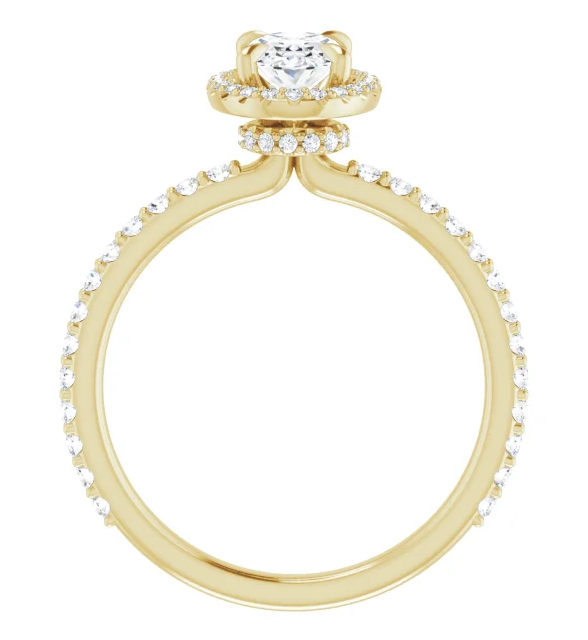 Aria Halo - Ring Set
---
This design comes as a set, your engagement ring and matching wedding band set with horsehair.
Introducing the Aria Halo: A Symbol of Love and Elegance
Elevate Your Love Story with the Aria Halo Engagement Ring and Wedding Band Set
At Verstara, we understand that your love story is unique, just like your bond with your cherished heart horse. That's why we're delighted to introduce the Aria Halo Engagement Ring and Wedding Band Set, a masterpiece designed to celebrate your love for both your partner and your beloved horse.
A Timeless Connection
The Aria Halo is not just a beautiful set; it's a testament to your profound connection with your heart horse. Crafted with utmost precision, this set captures the essence of your bond by incorporating your horse's tail hair into the wedding band. Each time you glance at your hand, you'll be reminded of not only the connection you share with your equine friend, but the love you and your partner share as well.

A Halo of Brilliance
The centerpiece of the Aria Halo is a breathtaking lab-created diamond, available in your choice of 0.70ct or 1ct. Lab-created diamonds are not only visually stunning, but they also offer a host of benefits:
1. Ethical and Sustainable: Our lab-created diamonds are responsibly sourced and produced, ensuring that no harm comes to the environment or communities. They are conflict-free, so you can wear your Aria Halo with a clear conscience.
2. Unparalleled Quality: Lab-created diamonds are engineered to perfection, boasting exceptional clarity and brilliance. The Aria Halo's center stone sparkles just like a natural diamond but without the associated ethical concerns.
3. Value and Affordability: Lab-created diamonds offer excellent value for your money, allowing you to select a larger stone size or invest in other aspects of your special day.
A Symphony of Diamonds
Surrounding the lab-created diamond is a dazzling halo of even more diamonds, creating a mesmerizing effect that symbolizes the radiance of your love. Additional diamonds gracefully adorn the sides of the engagement ring, enhancing its elegance and sophistication.
A Perfect Match
The Aria Halo Engagement Ring's dainty style is meticulously designed to complement the horsehair wedding band seamlessly. The two pieces fit together like soulmates, much like you and your partner.
Your Perfect Proposal
For those who hold their heart horse close to their heart, the Aria Halo Engagement Ring and Wedding Band Set is the perfect way to propose. It's a symbol of your love for your partner and your cherished horse, all in one exquisite piece of jewelry.
At Verstara, we understand the significance of this moment, and we're here to help you make it truly unforgettable. The Aria Halo Engagement Ring and Wedding Band Set is more than just jewelry; it's a symbol of love, a tribute to your heart horse, and a promise of forever.
Q: How do I collect my horsehair?
A: If your horse is no longer with us but you have taken tail hair, please send a section approximately the thickness of a pencil and 15" or longer. If you do not want separate the hair, feel free to send what you have – any hair not used will be returned with your order.
If your horse is still with us, brush out the tail (do not use detanglers or conditioner) and take a few snippets from the bottom of the tail bone until you have a pencils thickness. The longest hairs hide there! If you have a sorrel or chestnut, these hairs will be dark, feel free to send along some of the outside hairs that show more red, just make sure they are long enough.
Band the hair at the top and coil it loosely into a Ziploc baggie.  
Q: How do I figure out my ring size?
A: Verstara rings are true to size. If you are selecting a wide band please order 1/2 size up from your regular ring size. If you don't know your ring size, you can visit your local jewelry store and ask to be sized with a 4mm band, or you can purchase a reusable ring sizer from Verstara. Please note that these rings are not easy to resize once the hair is set, you want to be sure you have the right size!
Q: How do I figure out my bracelet size?
A: Use a soft measuring tape or string for accurate measuring of your wrist. Measure for your bracelet is by taking your exact wrist measurement, then add an inch and a quarter (1.25 inches). Please add the 1.25 when entering Bracelet size on your order. Example: Wrist Size: 6 Bracelet Size: 7.25. This will be your finished bracelet length which includes all hardware.  Your bracelet will be a comfortable fit, not too tight and not too loose. Typical bracelet sizes are Small 7 to 7.25 Average 7.5 to 7.75 Large 8 to 8.5. 
Q: How long does it take to receive my order?
A:  Bracelets, key chains and tassels are quick, turn around is 2 weeks or less from the time I receive your horsehair. Rings take 4 weeks to complete, these are made to order, I do not carry blanks so it takes time to create your masterpiece!  I will send you an email confirmation when your horsehair arrives and you are welcome to check in at anytime.
Q: Can I have my piece made from more than one horse?
A: Yes, you can keep your whole herd together in one piece! If you have a special request on how the hair is separated, please make a note in the comments at checkout.
Q: What is the difference between the braid styles?
A: The 3 strand is a flat braid, the round braid is made with 4 plaits and has a tube appearance, the square braid is made with 8 plaits and has a box appearance.
Q: How do I care for my horsehair keepsake
A: Verstara's horsehair jewelry are made with detailed attention to quality and durability using only the finest materials.  I wear mine every day!  They can get wet, but I suggest that you do not swim or shower with them on.  Care for it as you would all your fine jewelry and your horsehair keepsake will last a lifetime!
Q: Does the hair need to be washed before mailing?
A: No, washing the tail if your horse has passed can be an extremely emotional event. I am honored to help you with that part. If the tail is extremly dirty or contains blood traces, that will need to be washed before sending.
Q: Where do I ship my horsehair?
A: Verstara, Box 1148, Tofield, AB, T0B 4J0 Canada 
If you'd prefer to ship by courier please use FedEx Express, and contact me for the address.
Q: What shipping company do you use for shipping?
A: Your order will be shipped through Canada Post, if you prefer a courier please select that at checkout.
Q: Do you ship to addresses outside Canada?
A: Yes we ship worldwide!